The Oil Spill Saga - The polluter is the one that gets away
Oil pollution is a phenomenon that's becoming a reoccurring issue. Only largescale spills are getting mass media attention - remember the Deepwater Horizon spill? -, while small-scale contaminations remain a daily issue. They are difficult to trace back to their source and remediation costs for clean-up can be very high.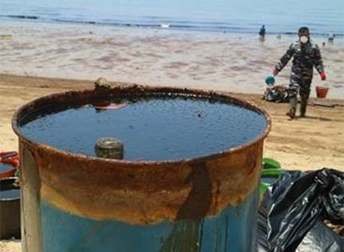 To allocate those costs, and to get the necessary evidence for juridical proceedings, we need to be able to trace the polluter back to the source. Therefore, we need performant analytical techniques which can reveal a causal relationship between the possible source and contamination.
Why is it difficult to identify the polluter?

Crude and refined oils are hydrocarbon mixtures with a very complex composition (> 1000 compounds). Because they are so complex, many labs with a classic analytical approach are being challenged, because they are not capable of making the distinction between two (or more) hydrocarbon sources. Almost each oil source has a unique composition, related to the local physical and biological conditions that influence the oil formation. These conditions result in unique compositions.

SGS Belgium offers a unique technical approach, based on at least two major source specific characteristics of these hydrocarbon mixtures:

- Biomarkers (source specific hydrocarbons- in oil, derived from formerly living organisms. Monitors specific ratios of between chemical compounds present in an oil sample – inter-compound comparison)
- Carbon Isotopic Ratio of n-alkanes (monitors carbon isotopic ratios of specific chemical compounds present in an oil sample – intra-compound comparison. Determined by using GC-IRMS /Isotopic Ratio Mass Spectrometry technique)
This approach allows us to make a match/non-match between different sources and a contamination and generate data that can be used to identify the polluter and thus allocate the remediation costs.
If you would like more information about this unique concept, you can contact us via email or simply give us a call: +32 3 545 85 84.