SGS supports the monitoring of the mobility of PFAS in groundwater through high-quality analysis
SGS has cooperated with iFlux and Cyclopure to develop a new method for monitoring the mobility of PFAS in groundwater plumes. iFlux patented a passive sampling cartridge and technology, together with Cyclopure, which supplied the adsorbent needed to capture and remove PFAS from the groundwater, allowing for a unique flux measurement to be determined. SGS contributed its expertise, as an ISO 17025 accredited laboratory, in high-quality environmental measurement and analysis to determine the PFAS compounds.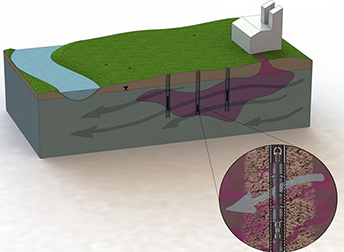 Per- and polyfluorinated Alkyl Substances (PFAS) are omnipresent in our daily lives. Due to their resistance to heat and their affinity for water and oil, PFAS can be found in numerous industrial applications and everyday products, from rainwear and food packaging to firefighting foam and other applications. PFAS can even be found in our drinking water.
SGS became involved in this project because we are familiar with so-called Environmental Forensics research and due to the fact that our Environment, Health, and Safety (EHS) specialised laboratory in Antwerp has proven knowledge and expertise.
Environmental effects
PFAS have unmistakeable effects on the environment and people's health because these don't degrade in the environment and are also bioaccumulative. iFlux developed a unique passive sampling technique to capture and recover PFAS compounds from groundwater for further analysis. Cyclopure manufactured and supplied DEXSORB+, an absorbent derived from corn. It has proven its excellence in the removal of microtoxins, like PFAS, in drinking water. SGS specialists then analyse the collected medium. SGS is pleased to have teamed up with 'premiere league' players like iFlux and Cyclopure.
Understanding the behaviour of PFAS in groundwater can lead to better knowledge about the distribution of these chemicals and, hopefully, to solutions for removing them in the future.
A-listers
About SGS
SGS (sgs.be) is a global leader in laboratory testing, with proven expertise in reliable, high-quality environmental measurement and analysis. This makes SGS an ideal partner for accurate compliance in PFAS and emerging contaminants analysis. PFAS analysis, in all environmental matrices, is in urgent demand around the globe. SGS provides two specialised laboratories, one in Antwerp (Belgium) and the other in 's Gravenpolder (the Netherlands), with the expertise and the instrumentation in place to carry out high-quality tests in a timely manner. The laboratory in Antwerp is intensively involved in PFAS analysis.
About iFLUX
iFLUX (ifluxsampling.com) safeguards our environment with a unique patented technology that captures the dynamics of the subsurface. They do this by measuring groundwater and contaminant fluxes on behalf of environmental consultants and authorities. This type of measurement quantifies the amount of underground pollution, the speed and fluctuation rate at which it spreads, and the direction in which it moves. This information reduces uncertainty and improves remediation projects. Flux measurements provide essential information before, during, and after the soil contamination management process. This is now also possible for the emerging PFAS contaminants.
About Cyclopure
Cyclopure (cyclopure.com) is a materials science company and a leader in water purification technologies. The company's line of DEXSORB adsorbents is based on breakthrough technology that converts renewable, corn-based cyclodextrins into highly adsorbent materials engineered to remove micropollutants, including perfluorinated compounds (PFOA and PFOS), from drinking water. Cyclopure's DEXSORB adsorbents are produced in varying formats, meaning they can be used in analytical, household, and municipal water treatment applications. Cyclopure is working with global partners to bring DEXSORB to market in analytical applications, household filtration, and municipal drinking water and wastewater treatments.