CCB obtains CSC silver level certificate for cement
The CSC mark is gaining ground in Belgium and beyond. CCB Cementir Holding recently received the Concrete Sustainability Council (CSC) silver level certificate for cement for their Gaurain-Ramecroix site. SGS has assessed the CCB process.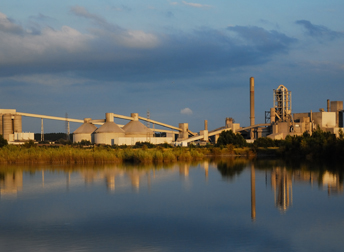 CSC certification helps to meet CCB's ambitious, sustainable goals. CCB Strategic, Commercial and Business Development Director, Mr. Alessandro Perrone: "This ranking marks a key milestone in our sustainability C- Evolution strategy, leading our journey with ambitious green transition targets. All of us is committed to dealing with the challenges of climate change and to delivering value to our Customers".
What is CSC certification?
The CSC certificate is the first global mark issued by the Concrete Sustainability Council (CSC) to demonstrate a sustainable production method for concrete, cement and granulates. Companies with the certificate meet the stringent economic, social and environmental requirements as well as the requirements relating to the origin of raw materials and method of production.
Benefits of certification
The assessment criteria for CSC certification have been adapted to local legislation and various national construction initiatives. CSC certification offers an organization a range of benefits:
Certified organizations meet the latest sustainable concrete standards;

Companies that use certified organizations will receive credits for BREEAM certification, which will give you an increased chance of bidding for tenders

It strengthens a company's position in the market against competitors, since you can demonstrate that you are producing concrete products responsibly;

Understanding the opportunities for improvement to sustainable and responsible production.
Why SGS?
SGS is a world leader in inspection, verification, testing and certification. Our local expertise in (construction) materials, (construction) processes and construction damage assessment is carried by an international network of knowledge of over 2,600 offices and laboratories. We are at the top of the corporate sustainability, concrete, environmental and environmental issues. Our experts have knowledge of the Royal Decree on Environmental Messages, life cycle analyses, recycling of building materials, applications for waste streams, secondary materials, VLAREMA and circular building.
Find out more
To find out more about CSC certification, contact us today on 0031 88 214 51 33 or email jeroen.pos@sgs.com.