We Contribute to the Safe Transport of the COVID-19 Vaccine
Dealing with dangerous goods and blood samples for disease control is something we do every day. Our experts of Biologistics have the knowledge to help distribute these types of shipments such as blood samples and vaccines to all corners of the world.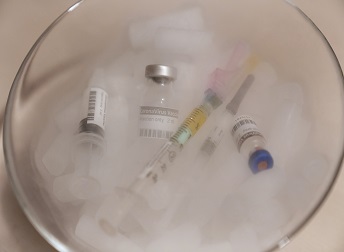 COVID-19 vaccines shipped on dry ice are classified as "dangerous goods" for transport and mist comply with IATA regulations. With our expertise on dry ice shipments, corona vaccines can be packaged and refilled with dry ice so that it can safely reach the desired authorities.
We are ready to assist freight forwarders with vaccine distribution through a range of specialist services. These services are essential to ensure efficient and rapid distribution of the vaccines worldwide.
An overview of products & services with which SGS can assist you:
Delivery of dry ice
Supply of data loggers;
Delivery of dangerous goods labels
Delivery of (UN) temperature-controlled packaging;
Transport of samples by ADR trained express couriers
Would you like to know more about the safe transport of COVID-19 vaccines? Please contact our Dangerous Goods specialists via email be.dgs@sgs.com or by phone on +32 2 254 02 30.