Real-time data transmission technology for vehicle inspections
Inspections of new vehicles are now even smarter. With the addition of real-time data transmission (RTDT) technology, dealers or carriers instantly receive a report following a vehicle inspection.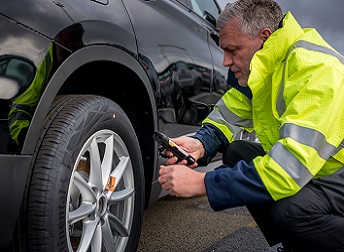 We've been independently inspecting new vehicles at Belgian and Dutch ports for more than 25 years. Our inspectors assess any damage present and help to prevent damage, allowing us to assist brands, importers, shipping lines or terminal operators in establishing who is liable for any damage caused during transport.
Inspections prior to improvements
SGS' proprietary Enhanced Vehicle Application (EVA) software has been used by inspectors for 15 years now. They scan the chassis number and report any damage using a hand-held device. However, these hand-held devices can only send results through once a batch of inspections has been completed.
Inspections following improvements
The addition of RTDT technology means that the software constantly receives the data for each individual vehicle inspected, using a 4G connection. The roll-out of this new technology has taken place with the latest hand-held devices, featuring higher-quality integrated cameras that enable you to see damage even more clearly. As a customer, you will see all damage reports appearing one by one, allowing you to determine and execute the next logistical step for each vehicle in no time.
Advantages of RTDT
Reporting is more efficient.
A greater number of completed reports is possible in the same time period.
You receive real-time data for each vehicle instead of at the end of a batch.
You can optimise the next steps for your logistics faster.
This service is offered at no extra cost.
These improvements allow us to make the most of the latest technology, while you have an efficient and reliable partner for inspections of new vehicles by your side.
If you have any further questions or would like to know more, feel free to contact Rob Nuyts by e-mail or by phone on +32 (0)470 53 65 47.