Do your refrigerant gases meet the standards
Refrigerant gases are used to cool systems by transporting and dissipating heat. We all encounter refrigerant gases in our daily lives. For example with your refrigerator, air conditioning, refrigerated containers for transport (reefers) or fire extinguishing systems. It is important to know whether these refrigerant gases are of good quality by means of refrigerant gas analyses. We would be happy to tell you more about this.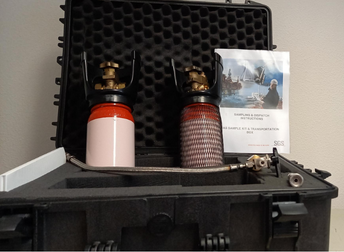 The changes with the Clean Air Act
The Clean Air Act is an air quality law that was started in 1956 by the United States. This law was adopted by the European Commission in 2013 to reduce air pollution in Europe. Meanwhile, to reduce the impact on the greenhouse effect, many regulations have been added to reduce the emission of harmful gases.
Refrigerant gases must also comply with the Clean Air Act, because some of the refrigerant gases can be released into the atmosphere. Some gases may contain constituents that are harmful to the environment or indirectly harmful due to toxins or explosion risks.
Testing refrigerant gases according to the AHRI 700 standard
Newly produced and recycled refrigerant gases must be tested according to the globally used AHRI 700 standard to ensure that refrigerant gases meet quality standards. In our specialized laboratory in Spijkenisse, we can perform analyses in accordance with the globally applicable AHRI700 guidelines.
What should you look out for with refrigerant gases?
Does the quality of my newly produced refrigerant gases meet the standards? You cannot simply be sure that newly produced refrigerant gases meet the AHRI 700 standards. Refrigerant gases must meet the AHRI 700 quality standards prior to commissioning.
Does the quality of my recycled refrigerant gases meet the standards? Older types of refrigerant gases may consist (in part) of gases that may no longer be used and manufactured. For example, as of January 1, 2020, plants using R404A or R507 may only be refilled with recycled R404A or R507, and as of January 1, 2030, the use of these agents is prohibited altogether. The Clean Air Act describes even more substances.
Do I import approved refrigerant gases? Refrigerant gases imported from abroad can consist entirely or partially of refrigerant gases that are now prohibited. This is particularly likely if the refrigerant gases come from outside Europe. Before putting imported refrigerant gases into use it is a legal requirement to check whether these refrigerant gases contain, in whole or in part, prohibited refrigerant gases.
Pay extra attention to reefers: Refrigerated containers for transport (reefers) can for example contain the harmful R40 species, which can cause corrosion and even lead to explosions if the refrigerant gas contains more than 1% R40.
We are happy to assist you with the following:
Analyze whether the quality of newly produced or recycled refrigerant gases meet quality standards according to AHRI 700.
Verify whether imported refrigerants contain prohibited substances in violation of the Clean Air Act.
Check refrigerated containers (reefers) for refrigerant gas R40.
Contact
Want to know more about this service or schedule an appointment? Please contact Pim Michielsen by email or by phone at +316 10 91 35 72.
Related services
In addition to testing refrigerant gases, we also provide certification when working with refrigeration systems based on assessment directive BRL 100, the Dutch mandatory F-gas certificate for working with fluorinated gases, or STEK. With a STEK certificate you demonstrate that you are at the forefront of quality, durability, safety in the installation and maintenance of refrigeration installations. In addition, various additional modules can be chosen for, for example, the use of CO2 as a refrigerant or the installation and maintenance of heat pumps.